Paddling Down Under
'A brief look into my journey throughout New Zealand with my canoe.'
Coming into the fall of 2016, my mind was made up. I was going to follow summer and head down to New Zealand to tour and paddle.   The plan was pretty rough, I had some friends scattered throughout the country, and I was pretty sure I could fly my Blackfly Option over.  Air Canada allows kayaks and my Option fit in the size requirements,
Anyways, after many flight delays, missed flights, lost baggage and 30+ hours of travel, I made it to Christchurch. After buying a small Subaru Impreza and making proper wooden roof racks.  I rallied to the Hokitika on the westcoast where I had some friends.  It was amazing to be able to spend some time on the coast.  The way the mountains mix with the sea is so beautiful.  Sadly the rain wasn't cooperating, and the majority of runs were ether low or not running.  It still was a wonderful time with fun runs and great friends.
After some time in Hokitika, I decided to hit the road and head up to Murchison and the more central north section of the South Island.
Murchison is home to the New Zealand Kayak school and a bounty of class 2,3,4 runs.  It attracts a large amount of boaters and I found it was always easy to meet and get out with someone.  It is also a wonderful training ground to work on your technique.
While in Murch,  I ended up paddling with two Americans a good bit.  After a week or so there, They came up with the idea of doing a short multiday on the Waiou.  Now to go make a long story short, this trip ended up being amazing.   We had everything we needed to make it a "very" memorable trip.  Beautiful sun covered mountain peaks, huge earthquakes, amazing whitewater, massive floods, stellar company, to list a few of them.  Oh yea, and Helicopters.
Basically the trip went like this, day 1, Amazing Sun and beautiful landscapes, night 1, a massive earthquake happens.  Day 2, awesome day on the water in some class 3,4.  night 2, rain falls pretty heavily.  Day 3, the river had come up 3-4 feet due to the rain and we decide to stay where we are and let it drop.  Day 4 we were on our way out, when one person swam and we got cliffed in without their boat.  So she was then nicely lifted out by some friends from above.  Basically thats it in a nutshell.
Here are some photos from the trip.
After that trip, I ended finding myself at the Kaituna up on the North Island.   The Kaituna has a couple things going for it.  Firstly the river is amazing.  Class 3ish 4-, clean drops and lots of fun eddies and moves.  It also has a super easy shuttle.  Secondly, the paddling community around the area is stunning.  There's the locals (vast majority of whom paddle) who live in the small village Okere Falls at the put in.  And then there are the dirtbags who camp out at the takeout of the river.  Lastly, there is a wonderful cafe at the putin that has amazing meat pies.
Since I had been living out of my car for almost two months, I found I fit right into the crowd at the takeout.  I was amazed to find the wide range of paddlers who stayed there.  Everyone from pretty new paddlers to crazy Belgium boaters, to the female champion of this past Sickline.   Anyways, the community that forms there is amazing.  I found that the Kaituna was a wicked training ground to work on fluidity.  It also was just plain fun to go down, aka swim/inner-tube/do whatever your heart desires.
For the first chunk of time on the Kaituna,  I found that I was always getting asked the same questions.  "What's that?"  "Can you roll it"  "Its a Canadian Canoe!"  "Hows the waterfall go"   etc.  It was kinda interesting to see peoples perception of what you should and shouldn't be able to do.   After a bit of time there, I decided to start running the takeout waterfall called Trout Pool falls.   It is a pretty simple delay boof with high consequences.  It has a nasty boil/towback and a very high beatdown potential if you mess it up.   After getting my line dialed in, I found most questions about my boat died down, and people had more respect for me and my canoe.
Every so often,  the group at the takeout would rally, and we would head south to the central north.  This is where the waterfalls abounded.  I found this was a great way to test what I had been practicing in a different and more challenging environment.  Probably my favourite drop was Huka falls of the Waikato River.  Its an amazing mini canyon that goes through a couple class 4 drops and ends in a high volume 20 footer.   My first couple lines weren't perfect. (I swam once.) But in the end, I was super happy with my lines and the two days I got on it.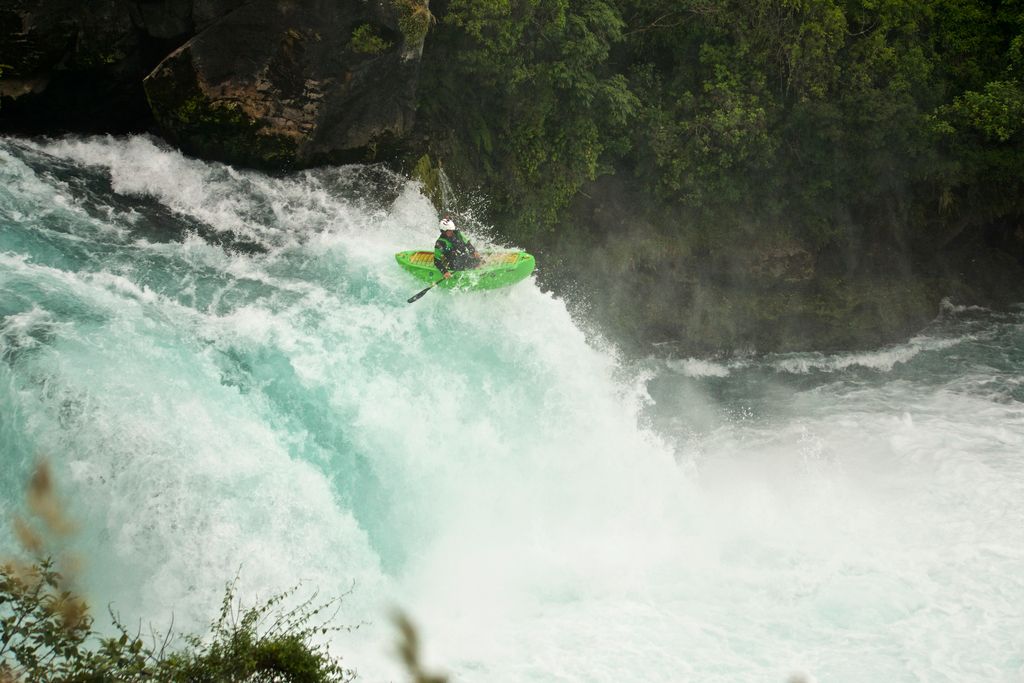 The main other waterfall of note would be Tawhai on the Whakapapa river.  I got down there twice.  The first time was during a massive rainfall and the river was going hard.   I opted to pass due to the pool at the bottom being one massive boil.
Thankfully, two weeks later I was able to make it back down there.  The flow this time was way more reasonable and I was able get some proper laps on it.
Now I am currently back down south in Christchurch.  Realizing that my trip thats stretched over the past 4 months is coming to a close.  Overall I am super stoked for the time spent down here, and the people that I've met.
I guess its now time now to look to Ain't Louie Fest and plan for the time when I am back in the midst of all the canoes and spring melt.  Its going to be good.